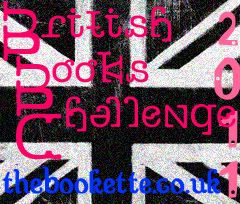 I had to sign up for the
British Books Challenge
by The Bookette because it overlapped so nicely with many of my other reading challenges. The Georgette Heyer and Victorian ones could help me finish it alone! (Yes, I'm getting cocky.)
I'm feeling so good about this one, I'm going big: The Royal Family - Read 12 books by British authors in 2011.
But I still want your recommendations! Any British authors I should especially look out for? I'd love to include some British authors of color if you have any favorites I should pick up!
Read
Room
by Emma Donoghue
Ordinary Angels
by India Drummond
The Doll
by Daphne du Maurier
Cocktail Hour Under the Tree of Forgetfulness
by Alexandra Fuller
The American Heiress
by Daisy Goodwin
Far From the Madding Crowd
by Thomas Hardy
Small Wars
by Sadie Jones
The Lantern
by Deborah Lawrenson
A Man of Parts
by David Lodge
A Train in Winter
by Caroline Moorehead
Mr Bishop and the Actress
by Janet Mullany
The Girl in the Garden
by Kamala Nair
Jane Austen Made Me Do It
edited by Laurel Ann Nattress
Major Pettigrew's Last Stand
by Helen Simonson
Queen by Right
by Anne Easter Smith
Does a Bear Sh*t in the Woods?
by Caroline Taggart
Two for Sorrow
by Nicola Upson
The Legacy
by Katherine Webb