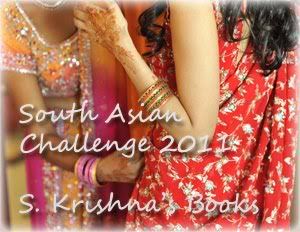 I'm really excited for the
South Asian Reading Challenge
-- one of my goals is to read more authors of color in 2011 and this is a great opportunity to do so!
My goal is:
South Asian Wanderer - 3 books
UPDATE
: South Asian Explorer - 5 books! Some books that immediately came to mind (mostly because I own them already) are below; if you've any opinions on them or recommendations, let me know!
Miss New India
by Bharati Mukherjee
Burnt Shadows
by Kamila Shamsie
Major Pettigrew's Last Stand
by Helen Simonson
The Lost Flamingoes of Bombay
by Siddharth Dhanvant Shanghvi
The Marriage Bureau For Rich People
by Farahad Zama
Read
A Different Sky
by Meira Chand
Major Pettigrew's Last Stand
by Helen Simonson
The Lost Flamingoes of Bombay
by Siddharth Dhanvant Shanghvi
The Beauty of Humanity Movement
by Camilla Gibb
The Girl in the Garden
by Kamala Nair
The Luminist
by David Rocklin