My first read for 2012 was Rashad Harrison's deliciously fantastic
Our Man in the Dark
, a noir-ish mystery-ish thriller set during the Civil Rights era. I loved everything about this book -- the setting, the characters, the ambiance, the fantastic writing -- and so it was a huge treat to get to interview Mr. Harrison. Read on to learn more about his writing, his book, and what he does when he's not writing! (And seriously, get
Our Man in the Dark
!)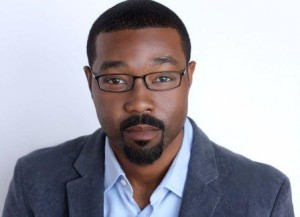 What was the plot of your very first piece of fiction?
A young boy discovers an old book in a forgotten section of a library. The book is magical: it can turn the reader's fears into reality.
I was seven, and it was published in the Prairie View Elementary school newspaper. Other masterpieces soon followed, like "The Dinosaur Gets a Toothache," and "Santa Quits His Job."
Do you have any writing rituals or routines?
My typical writing session begins with a bit of structured procrastination (Internet, piano, reading). Then I speak all of my ideas into a digital recorder, and later write them out longhand.
Was Our Man in the Dark the original title of your book?
No, the original title was "The Informant." You'd be surprised how many books and films out there are titled The Informant. I forced myself to change it after the Matt Damon movie of the same name was released. Fortunately, I was able to pull the title from within the book. Mathis refers to Estem as "Our man in the dark," and I liked the sound of it, its symbolic implications, and the nod to one of my favorite authors, Graham Greene.
As you were writing, was there a particular scene or character that surprised you?
I was very surprised that Count became such a pivotal character in the book. Early in the writing, I saw him as a marginal player, but that all changed when Estem decided to ask for his help. After writing the first scene in Count's office, I knew he was here to stay.
When you're not writing, what do you like to do?
If I'm not writing, I'm either reading, playing mediocre piano, or watching some really good television with what I think is strong writing—
Mad Men
,
Breaking Bad
,
Boardwalk Empire
, to name a few—or a British comedy, like the original
The Office
or
Peep Show
, that capitalizes on awkward situations.
Read any good books lately?
I really enjoyed
Pym
by Mat Johnson. It's an allegorical riff on Poe's
The Narrative of Arthur Gordon Pym
.
*** *** ***
My thanks to Mr. Harrison for his time! To learn more about Rashad Harrison and his book, check out his
website
. See other reviews of
Our Man in the Dark
by checking out the
blogs on tour
.